REPORTS
NEBGH Solutions Center Reports highlight employers' top concerns and hone in on ideas and innovations that can really move the needle on workplace health issues.
Supporting Caregivers in the Workplace: A Practical Guide for Employers (10/17)
Faced with a rapid increase in the number of caregivers in the workplace, Northeast Business Group on Health (NEBGH) and AARP today launched Supporting Caregivers in the Workplace: A Practical Guide for Employers. The Guide, the human resources industry's first publication of its kind, contains a series of tools, resources, and guidance to help employers of all sizes create workplace policies to help support employees who are family caregivers. The Guide is the latest in a series of collaborative workplace caregiving initiatives between NEBGH and AARP.
Click HERE for the guide.
Preventing and Treating Musculoskeletal Disorders: New Strategies for Employers (9/17)
Employers can better manage the health and cost burdens of musculoskeletal disorders by implementing prevention strategies such as ergonomics training and movement-friendly workplace design, providing onsite physical therapy for those with acute or chronic pain, and paying for surgery with bundled pricing, says a new report from Northeast Business Group on Health (NEBGH). The report says workplace-generated musculoskeletal disorders are increasing because of technology, open workplace design and remote workforces, and that as a result, prevention can enhance workplace health and productivity, and an organization's bottom line.
Click HERE for the report.
Caregiving in the Workplace: Employer Benchmarking Survey (7/17)
Caregiving ranks among the top ten employee health and wellness benefits priorities for most employers, says a new survey by Northeast Business Group on Health (NEBGH) in collaboration with AARP. NEBGH surveyed benefits managers from 129 mostly large U.S. employers to measure current workplace attitudes toward caregiving and provide employers with a way of assessing their organizations when it comes to being "caregiving friendly."
Click HERE for the survey.
Digital Diabetes Solutions in Action: An Opportunity Study
Digital diabetes management is an ongoing consideration for employers' general diabetes management strategy. However, implementing a program to effectively realize the its full value can be a struggle. This study describes the experience of Mount Sinai and Iron Mountain implementing Livongo for Diabetes, addressing challenges such as targeted communication, developing a business case and maintain engagement. Find out how you can apply these learnings to a digital health strategy in your workplace!
Click HERE for the study.
The Caregiving Landscape: Challenges and Opportunities for Employers
Employers need to be aware of the potential pay-offs for offering benefits and services that make caregiving an easier burden for employees to bear, says a new report from Northeast Business Group on Health (NEBGH). This report says that maximizing productivity, reducing future employee healthcare costs, and competing and retaining talent are among the reasons employers should consider specific policies and services designed to help employees who are providing care to loved ones. Challenges to better supporting these employees include resistance to being labeled as a "caregiver," the absence of best practices for employers and the need for buy-in from executive management.
Click HERE to download.
High Value Cancer Care: Guidance for Employers
NEBGH's report is based on interviews with cancer experts and employer benefits professionals, and a May 2016 workshop attended by 48 stakeholders – employer benefits professionals, oncology experts, care providers and health plan executives. It notes that healthcare in general in the U.S. is moving from a primarily volume-based, fee-for-service system to one in which value is central, and as a result, the cancer care landscape is also undergoing significant changes ranging from new options for better navigation and coordination of care, and more personalized and precision-based treatments, to new payment models like bundles and total cost of care.
Tipping the Scales on Weight Control: New Strategies for Employers
Overweight and obesity result in high costs for employers and significant health risks for employees. Traditional wellness programs are important, but do not go far enough for employees struggling with more than a few excess pounds. This report includes first-hand case studies from benefits professionals and opinions from experts in communications, psychology and medicine, about the best approaches for successful weight control interventions. NEBGH presents a framework that will help you stratify your population and provide appropriate access to benefits and services including new digital technologies, medically-supervised weight loss, pharmacotherapy, and surgery.
Employers and Cancer Care Quality: A Closer Look (4/16)
Employers play a role in the cancer care ecosystem. This report demystifies cancer care quality and documents how it is being defined. Find employer resources for building a top quality employer cancer care program and see how you measure up to other NEBGH employers by examining survey results about cancer care benefits, programs and policies.
Click HERE to download.
Digital Diabetes Prevention and Management Solutions (3/16)
Check out our new employer guide to digital diabetes tools! Find out how these tools can help with preventing and managing diabetes in workplace populations. The guide categorizes and highlights the features of 25 different digital diabetes tools that can help increase employee engagement. Convenience, personalization, data collection and management, customization of rewards and incentives, coaching and social networking – find out how these tools might enhance workplace diabetes interventions.
Click HERE to download the guide!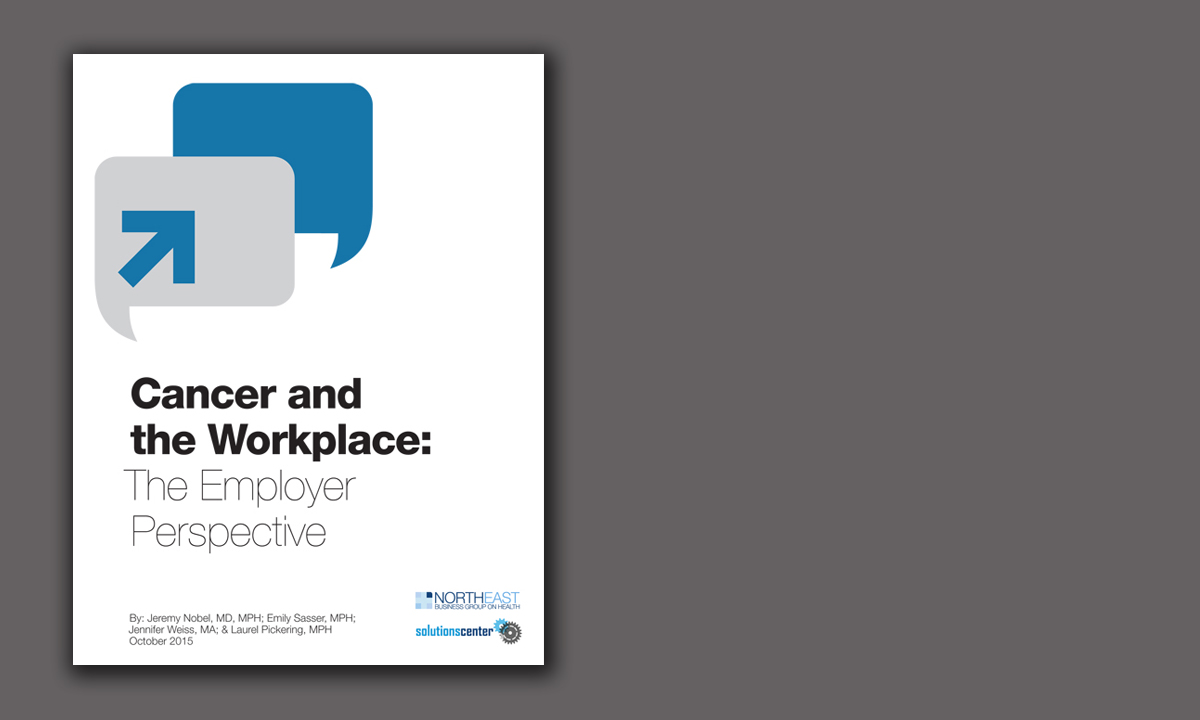 Cancer and the Workplace: The Employer Perspective (10/15)
This introductory report highlights the level of complexity employers face in managing their employees' cancer-related needs, and many of the gaps employers face as they try to make sense of the landscape surrounding cancer. Employers say they need help in evaluating the quality of cancer care their benefit dollars are purchasing, and want to be better equipped to assist employees who have been diagnosed with cancer.
Click HERE to download the report.
Transforming Diabetes Management: New Directions For Employers (5/15)
As a follow up to the NEBGH "Moving the Needle on Diabetes: The Employer Perspective" report, the Solutions Center puts forth employer-led innovations for new models of care delivery, improving employee engagement, and value based payment models. This report is the result of a multi-stakeholder "deeper dive" into diabetes in the workplace. It includes guided questions employers should ask in order to best match effective programs to their employee population and an evaluation table of digital tools to support care delivery models and engagement in the workplace.
Click HERE to download.
Moving the Needle on Diabetes: The Employer Perspective (11/14)
A new NEBGH Solutions Center report says that lack of employee engagement is a big factor in the failure of traditional disease management techniques like telephone outreach to make a dent in the diabetes epidemic. More innovative approaches are needed, including new models of care delivery, new ways of engaging employees and new payment models that reward high value care. Employers told NEBGH that denial, fear and lack of trust play a big role in preventing engagement – factors that digital tools could help address.
Click HERE to download.
Weight Control and Employees: One Size Doesn't Fit All (10/14)
One size doesn't fit all when it comes to effective workplace-sponsored weight control approaches, says NEBGH's newest report. Employers would do well to consider adding innovative technology applications, value-based benefits design, new prescription medications and bariatric surgery as supplements to traditional healthy eating and exercise programs, says the report. The report, "Weight Control and Employees: One Size Doesn't Fit All," is based on a NEBGH research project that included an employer survey and a roundtable discussion with 19 executives from employers, health plans and consulting organizations.
Click HERE to download.
Weight Control and the Workpace
This report cites as key findings the need for individually-customized instead of generic programs, and the importance of including employees in designing and rolling out such programs. Findings are based on a collaborative examination of obesity's toll on the workplace by 15 executives from large employers and health plans, facilitated by NEBGH.
Click HERE to download.